v2585-794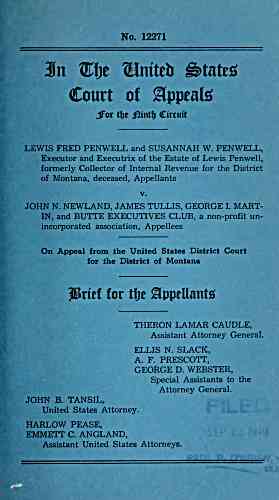 No. 12271
M ^f)e WinittH States
Court of Appeals;
Jfor tje Jintf) Circuit
LEWIS FRED PENWELL and SUSANNAH W. PENWELL,
Executor and Executrix of the Estate of Lewis Penwell,
formerly Collector of Internal Revenue for the District
of Montana, deceased, Appellants
JOHN N. NEWLAND, JAMES TULLIS, GEORGE I. MART-
IN, and BUTTE EXECUTIVES CLUB, a non-profit un-
incorporated association, Appellees
On Appeal from the United States District Court
for the District of Montana
prief for tije Appellants;
THERON LAMAR CAUDLE,
Assistant Attorney General.
ELLIS N. SLACK,
PRESCOTT,
GEORGE D. WEBSTER,
Special Assistants to the
Attorney General.
JOHN B. TANSIL,
United States Attorney.
HARLOW PEASE,
EMMETT C. ANGLAND,
Assistant United States Attorneys.
---
archive.org Volume Name: govuscourtsca9briefs2585
Volume: http://archive.org/stream/govuscourtsca9briefs2585
Document Link: http://archive.org/stream/govuscourtsca9briefs2585#page/n793/mode/1up
Top Keywords (auto-generated):
club, admission, tax, paid, executives, members, butte, section, revenue, right, internal, dues, district, code, regulations
Top Key Phrases (auto-generated):
executives club, butte executives, internal revenue, section 1700, initiation fees, season ticket, revenue code, admissions tax, treasury regulations, revenue code., regulations 43, initiation fee, certiorari denied, associated executives, non profit
Document Status: UGLY