v2611-1093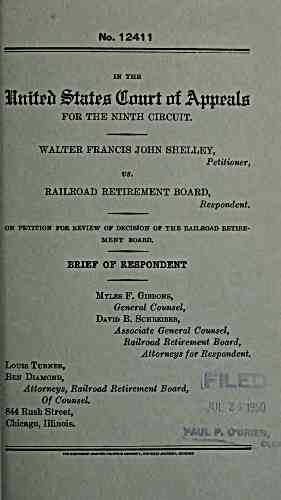 No. 1 241 1
IN THE
MmUh BUtt& (Hautt of KppmiB
FOR THE NINTH CIRCUIT.
WALTER FRANCIS JOHN SHELLEY,
Petitioner,
vs.
RAILROAD RETIREMENT BOARD,
Respondent.
ON PETITION FOR EEVIEW OP DECISION OP THE RAILROAD RETIRE-
MENT BOARD.
BRIEF OF RESPONDENT
Myles F. Gibbons,
General Counsel,
David B. Schreiber,
Associate General Coimsel,
Railroad Retirement Board,
Attorneys for Respondent.
Louis Turner,
Ben Diamond,
Attorneys, Railroad Retirement Board,
Of CoiMisel.
844 Rush Street,
Chicago, Illinois.
: ' ' i
THE eUNT)iOIIPWARNEN PRINTINS COMPANY. 210 WEST JACKSON, CHICAGO
---
archive.org Volume Name: govuscourtsca9briefs2611
Volume: http://archive.org/stream/govuscourtsca9briefs2611
Document Link: http://archive.org/stream/govuscourtsca9briefs2611#page/n1092/mode/1up
Top Keywords (auto-generated):
petitioner, railroad, decision, retirement, 1935, 1946, pacific, app, southern, section, pet, august, ed, 1937, council
Top Key Phrases (auto-generated):
railroad retirement, southern pacific, 1946 ed., judicial review, employment relation, walter francis, central div., peti tioner, administrative remedies, railroad retire, july 31, council decision, cert denied, 31 1946, truckee railway
Document Status: UGLY