v2616-647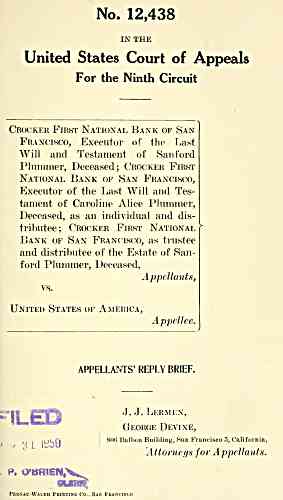 No. 12,438
IN THE
United States Court of Appeals
For the Ninth Circuit
Crocker First National Bank of San
Francisco, Executor of the Last
Will and Testament of Sanford
Plummer, Deceased; Crocker First
National Bank of San Francisco,
Executor of the Last Will and Tes-
tament of Caroline Alice Plummer,
Deceased, as an individual and dis-
tributee; Crocker First National
Bank of San Francisco, as trustee
and distributee of the Estate of San-
ford Plummer, Deceased,
Appellants,
vs.
United States of America,
Appellee.
APPELLANTS' REPLY BRIEF.
ILED
Lermen,
George Devine,
' I lUhH 80G Balboa Building, San Francisco 5, Calif ornia,
Attorneys for Appellants.
R, 0*6RIEN,
Pernau-Walsh Pkinting Co., San Fkancisco
---
archive.org Volume Name: govuscourtsca9briefs2616
Volume: http://archive.org/stream/govuscourtsca9briefs2616
Document Link: http://archive.org/stream/govuscourtsca9briefs2616#page/n646/mode/1up
Top Keywords (auto-generated):
property, community, wife, california, decedent, bank, estate, type, san, cal, language, national, app, 2d, paragraph
Top Key Phrases (auto-generated):
national bank, community property, san francisco, plummer deceased, stack 32, post 1927, francisco executor, 32 cal., 2d 586, 1927 type, type community, tax returns, scott dunham, sanford plummer, norton 41
Document Status: UGLY