v2626-205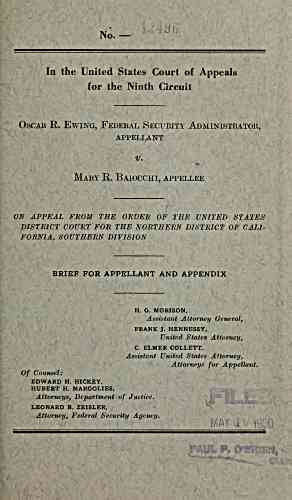 No.
In the United States Court of Appeals
for the Ninth Circuit
OscAE R. EwiNG, Fedekal Security Administrator,
APPELLANT
Mary R. Baiocchi, appellee
ON APPEAL FBOM THE ORDER OF TEE UNITED STATES
DISTRICT COURT FOR TEE NORTEERN DISTRICT OF CALI-
FORNIA, SOUTEERN DIVISION
BRIEF FOR APPELLANT AND APPENDIX
MORISON,
Assistant Attorney General,
FRANK J. HENNESSY,
United States Attorney,
ELMER GOLLETT,
Assistant United States Attorney,
Attorneys for Appellant.
Of Counsel:
EDWARD H. HICKEY,
HUBERT H. MARGOLIES,
Attorneys, Department of Justice.
LEONARD B. ZEISLER,
Attorney, Federal Security Agency.
---
archive.org Volume Name: govuscourtsca9briefs2626
Volume: http://archive.org/stream/govuscourtsca9briefs2626
Document Link: http://archive.org/stream/govuscourtsca9briefs2626#page/n204/mode/1up
Top Keywords (auto-generated):
market, services, fruit, agricultural, cooperative, 2d, growers, labor, performed, security, marketing, processing, farmers, social, grower
Top Key Phrases (auto-generated):
social security, agricultural labor, terminal market, services performed, 53 stat., ordinary farming, internal revenue, farmers cooperative, 1939 amendments, section 209, apricot growers, farmers marketing, federal security, california prune, economic interest
Document Status: UGLY