v2636-301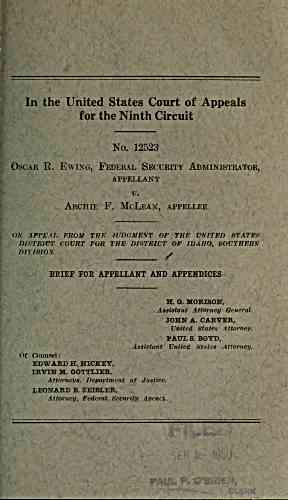 In the United States Court of Appeals
for the Ninth Circuit
No. 12523
Oscar R. Eaviag, Federal Security Administrator,
appellant
Archie F. McLean, appellee
" PI'EL FROM THE JUDGMENT OF THE UNITED STATES
DISTRICT COURT FOR THE DISTRICT OF IDAHO, SOUTHERN
DIVISION
/
BRIEF FOR APPELLANT AND APPENDICES
MORISON,
Assistant Attorney Oeneral.
JOHN A. CARVER,
United States Attorney.
PAUL S. BOYD,
Assistant United States -Attorney.
Of Counsel:
EDWARD H. HICKEY,
IRVIN M. GOTTLIEB,
Attorneys, Department of Justice.
LEONARD B. ZEISLER,
Attorney, Federal Security Agency.
---
archive.org Volume Name: govuscourtsca9briefs2636
Volume: http://archive.org/stream/govuscourtsca9briefs2636
Document Link: http://archive.org/stream/govuscourtsca9briefs2636#page/n300/mode/1up
Top Keywords (auto-generated):
market, services, performed, labor, agricultural, grower, security, social, fruit, potatoes, section, farm, fruits, packing, farmer
Top Key Phrases (auto-generated):
social security, agricultural labor, services performed, section 209, albert miller, terminal market, ordinary farming, 53 stat., internal revenue, federal security, horticultural commodity, freezing grading, packing packaging, packing house, farming operations
Document Status: UGLY