v2636-421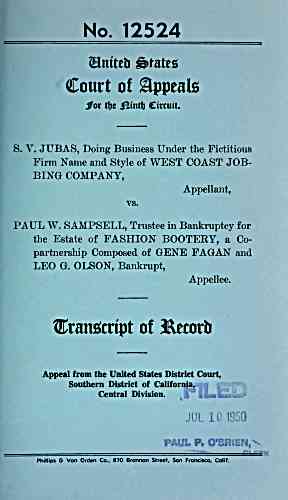 No. 12524
Court of Appeals
Jfot tbe iinrt) Circuit.
JUBAS, Doing Business Under the Fictitious
Firm Name and Style of WEST COAST JOB-
BING COMPANY,
Appellant,
vs.
PAUL W. SAMPSELL, Trustee in Bankruptcy for
the Estate of FASHION BOOTERY, a Co-
partnership Composed of GENE FAGAN and
LEO G. OLSON, Bankrupt,
Appellee.
Cransicript of 3corb
Appeal from the United States District Court,
Southern District of California,
Central Division.
jfji. 10 1950
PAUL P. O'BRIEN, V
Phillips & Van Orden Co., 870 Brannon Street, San Francisco, Calif.
---
archive.org Volume Name: govuscourtsca9briefs2636
Volume: http://archive.org/stream/govuscourtsca9briefs2636
Document Link: http://archive.org/stream/govuscourtsca9briefs2636#page/n420/mode/1up
Top Keywords (auto-generated):
shoes, business, bankrupt, stock, jubas, shoe, gendel, los, angeles, section, retail, 3440, practice, job, pairs
Top Key Phrases (auto-generated):
los angeles, section 3440, 1240 pairs, fashion bootery, civil code, gendel raskoff, street los, retail shoe, shoe business, job lots, coast job, bulk sales, bankrupt copartnership, miles raskoff, job bing
Document Status: UGLY