v2673-1080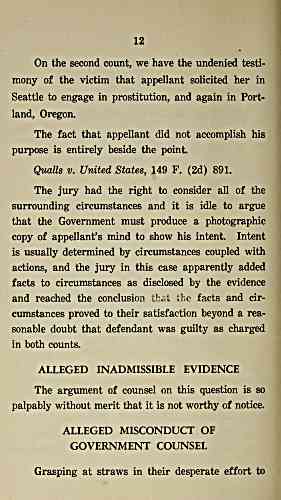 12
On the second count, we have the undenied testi-
mony of the victim that appellant solicited her in
Seattle to engage in prostitution, and again in Port-
land, Oregon.
The fact that appellant did not accomplish his
purpose is entirely beside the point.
Quails V. United States, 149 F. (2d) 891.
The jury had the right to consider all of the
surrounding circumstances and it is idle to argue
that the Government must produce a photographic
copy of appellant's mind to show his intent. Intent
is usually determined by circumstances coupled with
actions, and the jury in this case apparently added
facts to circumstances as disclosed by the evidence
and reached the conclusion that the facts and cir-
cumstances proved to their satisfaction beyond a rea-
sonable doubt that defendant was guilty as charged
in both counts.
ALLEGED INADMISSIBLE EVIDENCE
The argument of counsel on this question is so
palpably without merit that it is not worthy of notice.
ALLEGED MISCONDUCT OF
GOVERNMENT COUNSEL
Grasping at straws in their desperate effort to
---
archive.org Volume Name: govuscourtsca9briefs2673
Volume: http://archive.org/stream/govuscourtsca9briefs2673
Document Link: http://archive.org/stream/govuscourtsca9briefs2673#page/n1079/mode/1up
Top Keywords (auto-generated):
government, club, argument, white, prejudice, los, involved, elks, colored, beardslee, angeles, negro, jurors, girls, comment
Top Key Phrases (auto-generated):
los angeles, elks club, colored elks, white girls, coun sel, woman 105, solemnly swore, sexual relations, italics ours, interstate journey, defend ant, colored club., angeles coun, women swore, woman 105.
Document Status: UGLY