v2696-321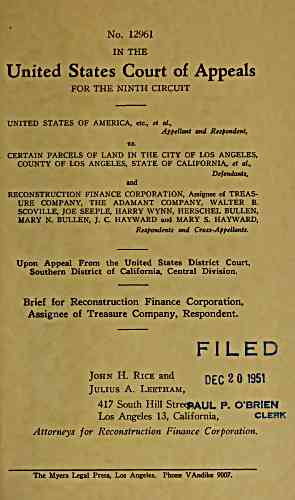 No. 12961
IN THE
United States Court of Appeals
FOR THE NINTH CIRCUIT
UNITED STATES OF AMERICA, etc., et al.
Appellant and Respondent,
vs.
CERTAIN PARCELS OF LAND IN THE CITY OF LOS ANGELES,
COUNTY OF LOS ANGELES, STATE OF CALIFORNIA, et al.
Defendants,
and
RECONSTRUCTION FINANCE CORPORATION, Assignee of TREAS-
URE COMPANY, THE ADAMANT COMPANY, WALTER B.
SCOVILLE, JOE SEEPLE, HARRY WYNN, HERSCHEL BULLEN,
MARY N. BULLEN, J. C HAYWARD and MARY S. HAYWARD,
Respondents and Cross-Appellants.
Upon Appeal From the United States District Court,
Southern District of California, Central Division.
Brief for Reconstruction Finance Corporation,
Assignee of Treasure Company, Respondent.
FILED
John H. Rice and qq 2 Q 1951
Julius A. Leetham,
417 South Hill StreAUL P. O'BRIEM
Los Angeles 13, California, CLERK
Attorneys for Reconstruction Finance Corporation.
The Myers Legal Press, Los Angeles. Phone VAndike 9007.
---
archive.org Volume Name: govuscourtsca9briefs2696
Volume: http://archive.org/stream/govuscourtsca9briefs2696
Document Link: http://archive.org/stream/govuscourtsca9briefs2696#page/n320/mode/1up
Top Keywords (auto-generated):
treasure, interest, royalty, scoville, haywards, lien, award, leasehold, lessee, property, equitable, oil, holders, estate, adamant
Top Key Phrases (auto-generated):
equitable lien, working interest, royalty holders, leasehold estate, treas ure, reconstruction finance, participating royalty, van acker, royalty interests, royalty interest, florida beaches, finance corporation, los angeles, express contract, corporation assignee
Document Status: UGLY