v2706-289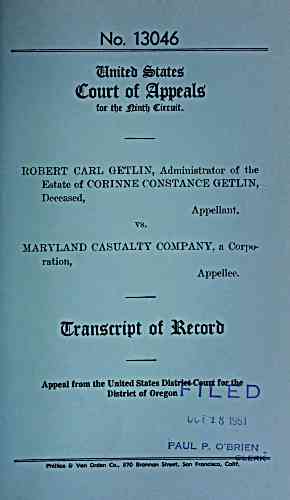 No. 13046
^niteb States
Court of ^ppeate
for tfjc Jtinrt) Circuit.
ROBEET CARL GETLIN, Administrator of the
Estate of CORINNE CONSTANCE GETLIN,
Deceased,
Appellant,
vs.
MARYLAND CASUALTY COMPANY, a Corpo-
ration,
Appellee.
QTranscript of Eetorti
Appeal from the United States DistrfeCouict forJlie
District of Oregon P 1 L, tl L)
'o iJO
PAUL P. O'BRIEM
Phillips & Von Orden Co., 870 Brannon Street, San Francisco, Calif.
CLRK
---
archive.org Volume Name: govuscourtsca9briefs2706
Volume: http://archive.org/stream/govuscourtsca9briefs2706
Document Link: http://archive.org/stream/govuscourtsca9briefs2706#page/n288/mode/1up
Top Keywords (auto-generated):
insured, policy, kalahar, automobile, liability, rodgers, insurance, harold, accident, injury, death, decedent, maryland, getlin, philip
Top Key Phrases (auto-generated):
maryland casualty, philip rodgers, bodily injury, constance getlin, corinne constance, robert carl, february 1950, chevrolet station, station wagon, carl getlin, 1946 chevrolet, policy period, kala har, august 1947, private passenger
Document Status: UGLY