v2716-1145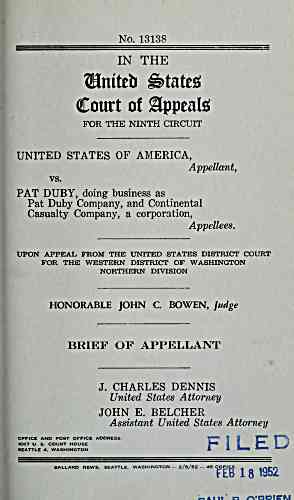 No. 13138
IN THE
WinittH States
Court of appeals
FOR THE NINTH CIRCUIT
UNITED STATES OF AMERICA,
Appellant,
vs.
PAT DUBY, doing business as
Pat Duby Company, and Continental
Casualty Company, a corporation,
Appellees.
UPON APPEAL FROM THE UNITED STATES DISTRICT COURT
FOR THE WESTERN DISTRICT OF WASHINGTON
NORTHERN DIVISION
HONORABLE JOHN C. BOWEN, Judge
BRIEF OF APPELLANT
CHARLES DENNIS
United States Attorney
JOHN E. BELCHER
Assistant United States Attorney
OFFICE AND POST OFFICE ADDRESS:
I017 U. S. COURT HOUSE
SEATTLE 4. WASHINGTON
FILED
BALLARD NEWS, SEATTLE. WASHINGTON - 2/5/52 -- 45 COPJES
FIB 1 8 1952
---
archive.org Volume Name: govuscourtsca9briefs2716
Volume: http://archive.org/stream/govuscourtsca9briefs2716
Document Link: http://archive.org/stream/govuscourtsca9briefs2716#page/n1144/mode/1up
Top Keywords (auto-generated):
duby, contract, damages, surety, government, liquidated, casualty, continental, pat, 1945, work, delay, contractor, bankruptcy, penalty
Top Key Phrases (auto-generated):
liquidated damages, continental casualty, pat duby, western district, accounting office, washington northern, surety continental, joint highway, honorable john, civil aeronautics, performance bond, liquidated damages., bethlehem steel, midnight oil, highway dist.
Document Status: UGLY