v2744-181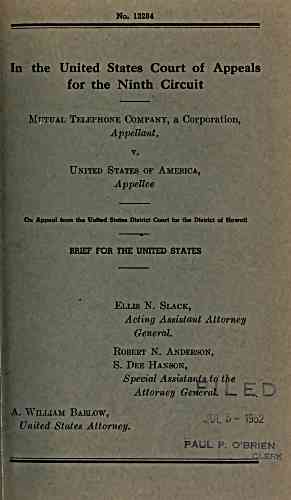 No. 13284
In the United States Court of Appeals
for the Ninth Circuit
Mutual Telephone Company, a Corporation,
Appellamt,
United States of America,
Appellee
On Appeal from the United States District Court for the District of Hawaii
BRIEF FOR THE UNITED STATES
Ellis N. Slack,
Acting Assistant Attorney
General.
Robeet N. Anderson,
Dee Hanson,
Special Assistanl&. to the
Attorney General. 4-, C. _.
L William Barlow,
United States Attorney.
O'BRIEN
---
archive.org Volume Name: govuscourtsca9briefs2744
Volume: http://archive.org/stream/govuscourtsca9briefs2744
Document Link: http://archive.org/stream/govuscourtsca9briefs2744#page/n180/mode/1up
Top Keywords (auto-generated):
taxpayer, income, charges, 2d, taxable, increased, commission, commissioner, right, restriction, tax, revenue, additional, 42, 175
Top Key Phrases (auto-generated):
increased charges, american oil, taxable income, gross income, supersedure charges, internal revenue, additional charges, increased installation, certiorari denied, tax payer, oil consolidated, union gas, brooklyn union, revenue code, excess charges
Document Status: UGLY