v2744-365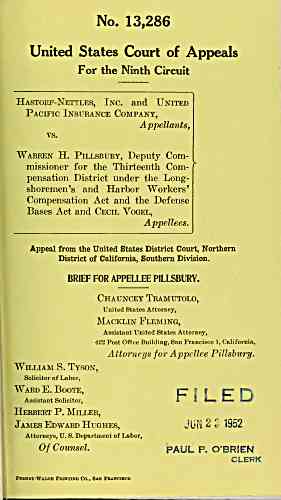 No. 13,286
United States Court of Appeals
For the Ninth Circuit
r
Hastorf-Nettles, Inc. and United
Pacific Insurance Company,
Appellants,
vs.
Warren H. Pillsbury, Deputy Com-
missioner for the Thirteenth Com-
pensation District under the Long-
shoremen's and Harbor Workers'
Compensation Act and the Defense
Bases Act and Cecil Vogel,
Appellees.
Appeal from the United States District Court, Northern
District of California, Southern Division.,
BRIEF FOR APPELLEE PILLSBURY.
Chauncey Tramutolo,
United States Attorney,
Macklin Fleming,
Assistant United States Attorney,
422 Post Office Building, San Francisco 1, California,
Attorneys for Appellee Pillsbury.
William S. Tyson,
Solicitor of Labor,
Ward E. Boote,
Assistant Solicitor,
Herbert P. Miller,
James Edward Hughes, J UN 2 G 1952
Attorneys, U. S. Department of Labor,
Of Counsel. PAUL P. O'BRIEM
CLERK
Peen ATT -Walsh Pkinting Co., San Fbancisoo
FILED
---
archive.org Volume Name: govuscourtsca9briefs2744
Volume: http://archive.org/stream/govuscourtsca9briefs2744
Document Link: http://archive.org/stream/govuscourtsca9briefs2744#page/n364/mode/1up
Top Keywords (auto-generated):
deputy, employer, employment, commissioner, employee, 2d, work, truck, injury, compensation, camp, labor, accident, inc, employees
Top Key Phrases (auto-generated):
deputy commissioner, labor camp, deputy commis, commis sioner, fort richardson, marshall deputy, liberty mutual, injury arose, henderson deputy, emphasis supplied., injury sustained, maxon inc., accident occurred, pacific maxon, harbor workers
Document Status: UGLY