v2760-613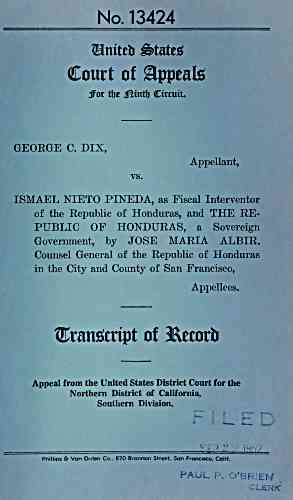 No. 13424
Mntteb Matti
Court of appeals
jFor fte iBtintf) Circuit.
GEORGE C. DIX,
Appellant,
vs.
ISMAEL NIETO PINEDA, as Fiscal Interventor
of the Republic of Honduras, and THE RE-
PUBLIC OF HONDURAS, a Sovereign
Government, by JOSE MARIA ALBIR,
Counsel General of the Republic of Honduras
in the City and County of San Francisco,
Appellees.
Cransitript ot lttovh
Appeal from the United States District Court for the
Northern District of California,
Southern Division.
i:. Lj
iMDJ
Phillips & Van Orden Co., 870 Brannan Street, San Francisco, Calif.
PA.--.. . . .' SRIEN
---
archive.org Volume Name: govuscourtsca9briefs2760
Volume: http://archive.org/stream/govuscourtsca9briefs2760
Document Link: http://archive.org/stream/govuscourtsca9briefs2760#page/n612/mode/1up
Top Keywords (auto-generated):
honduras, francisco, republic, siercke, fiscal, nieto, ismael, cross, pineda, george, california, dix, interventor, bank, assets
Top Key Phrases (auto-generated):
ismael nieto, nieto pineda, francisco siercke, fiscal interventor, san francisco, empresa nacional, juridical persons, public credit, national association, california national, national congress, hon duras, cross complainants, inter american, finance public
Document Status: UGLY