v2769-357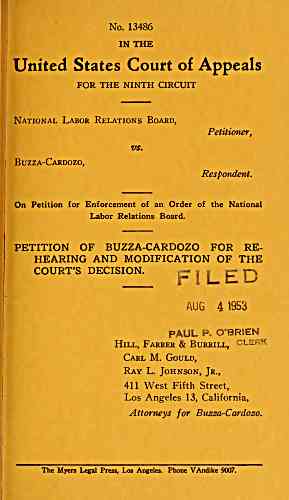 No. 13486
IN THE
United States Court of Appeals
FOR THE NINTH CIRCUIT
National Labor Relations Board,
Petitioner,
vs.
Buzza-Cardozo,
Respondent.
On Petition for Enforcement of an Order of the National
Labor Relations Board.
PETITION OF BUZZA-CARDOZO FOR RE-
HEARING AND MODIFICATION OF THE
COURT'S DECISION.
FILED
AUG 4 1953
PAUL P. O'BRIEN
Hill, Farrer & Burrill, clerk
Carl M. Gould,
Ray L. Johnson, Jr.,
411 West Fifth Street,
Los Angeles 13, California,
Attorneys for Buzza-Cardozo.
The Myers Legal Press, Los Angeles, Phone VAndike 9007.
---
archive.org Volume Name: govuscourtsca9briefs2769
Volume: http://archive.org/stream/govuscourtsca9briefs2769
Document Link: http://archive.org/stream/govuscourtsca9briefs2769#page/n356/mode/1up
Top Keywords (auto-generated):
jackson, district, labor, juanita, entenza, represented, employees, 2d, hayman, section, glasser, 1947, title, relations, national
Top Key Phrases (auto-generated):
juanita jackson, national labor, labor relations, buzza cardozo, respectfully submit, represented juanita, labor organization, effective assistance, striking employees, southern district, sixth amendment, los angeles, herman hayman, code title, adequately represented
Document Status: UGLY