v2770-123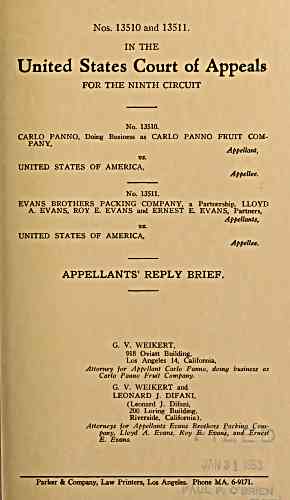 Nos. 13510 and 13511.
IN THE
United States Court of Appeals
FOR THE NINTH CIRCUIT
No. 13510.
CARLO PANNO, Doing Business as CARLO PANNO FRUIT COM-
PANY,
Appellant,
vs.
UNITED STATES OF AMERICA,
Appellee.
No. 13511.
EVANS BROTHERS PACKING COMPANY, a Partnership, LLOYD
EVANS, ROY E. EVANS and ERNEST E. EVANS, Partners,
Appellants,
vs.
UNITED STATES OF AMERICA,
Appellee.
APPELLANTS' REPLY BRIEF.
WEIKERT,
918 Oviatt Building,
Los Angeles 14, California,
Attorney for Appellant Carlo Panno, doing business as
Carlo Panno Fruit Company.
WEIKERT and
LEONARD J. DIFANI,
(Leonard J. Difani,
200 Loring Building,
Riverside, California),
Attorneys for Appellants Evans Brothers Packing Com-
pany, Lloyd A. Evans, Roy E. Evans, and Ernest
Evans.
Parker & Company, Law Printers, Los Angeles. Phone MA. 6-9171.
---
archive.org Volume Name: govuscourtsca9briefs2770
Volume: http://archive.org/stream/govuscourtsca9briefs2770
Document Link: http://archive.org/stream/govuscourtsca9briefs2770#page/n122/mode/1up
Top Keywords (auto-generated):
evans, interstate, commerce, 2d, sales, oranges, intrastate, partnership, foreign, probation, directly, panno, secretary, finding, offense
Top Key Phrases (auto-generated):
foreign commerce, carlo panno, code title, affect interstate, intrastate sales, grown oranges, directly burdens, burdens obstructs, burden obstruct, panno fruit, interstate commerce, evans roy, evans brothers, directly burden, brothers packing
Document Status: UGLY