v2770-71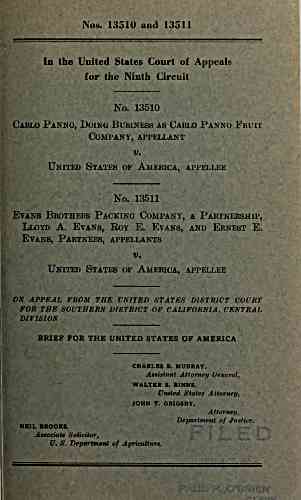 Nos. 13510 and 13511
In the United States Court of Appeals
for the Ninth Circuit
No. 13510
Carlo Panno, Doing Business as Carlo Panno Fruit
Company, appellant
V,
United States of America, appellee
No. 13511
Evans Brothers Packing Company, a Partnership,
Lloyd A. Evans, Roy E. Evans, and Ernest E.
Evans, Partners, appellants
V,
United States or America, appellee
ON APPEAL FROM THE UNITED STATES DISTRICT COURT
FOR THE SOUTHERN DISTRICT OF CALIFORNIA, CENTRAL
DIVISION
BRIEF FOR THE UNITED STATES OF AMERICA
NEIL BROOKS.
Associate Solicitor,
Department of Agriculture.
CHARLES B. MURRAY,
Assistant Attorney General,
WALTER S. BINNS,
United States Attorney,
JOHN T. GRIGSBY.
Attorney,
Department of Justice,
---
archive.org Volume Name: govuscourtsca9briefs2770
Volume: http://archive.org/stream/govuscourtsca9briefs2770
Document Link: http://archive.org/stream/govuscourtsca9briefs2770#page/n70/mode/1up
Top Keywords (auto-generated):
oranges, sales, secretary, commerce, 2d, interstate, district, 608c, evans, statute, criminal, handler, administrative, directly, validity
Top Key Phrases (auto-generated):
interstate commerce, oranges grown, foreign commerce, evans brothers, directly burdens, certiorari denied, carlo panno, burdens obstructs, affect interstate, fresh fruit, burden obstruct, appel lants, affects interstate, sales specified, sales directly
Document Status: UGLY