v2780-107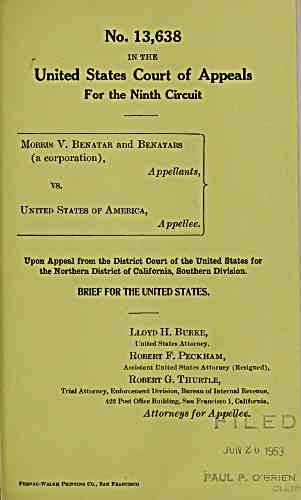 No. 13,638
IN THE
United States Court of Appeals
For the Ninth Circuit
Morris V. Benatar and Benatars
(a corporation),
Appellants,
vs.
United States of America,
Appellee.
y
Upon Appeal from the District Court of the United States for
the Northern District of California, Southern Division.
BRIEF FOR THE UNITED STATES.
Lloyd H. Burke,
United States Attoiney.
Robert F. Peckham,
Assistant United States Attorney (Resigned),
Robert G. T hurtle.
Trial Attorney, Enforcement Division, Bureau of Internal Revenue,
422 Post Office Building, San Francisco 1, California,
A ttorneys for Appellee. ^ y
PAUL P. O'BRIEN
Pebnau-Walsh Printing Co., San Fbancisco
---
archive.org Volume Name: govuscourtsca9briefs2780
Volume: http://archive.org/stream/govuscourtsca9briefs2780
Document Link: http://archive.org/stream/govuscourtsca9briefs2780#page/n106/mode/1up
Top Keywords (auto-generated):
benatar, furtado, conspiracy, potter, tax, benatars, 1951, 2d, government, checks, corporation, collector, interest, payment, internal
Top Key Phrases (auto-generated):
internal revenue, dog food, calo dog, daily bank, tax returns, stop payment, social security, san francisco, requested instruction, tax liability, furtado relative, substantial rights, northern district, ending december, december 31
Document Status: UGLY