v2780-1089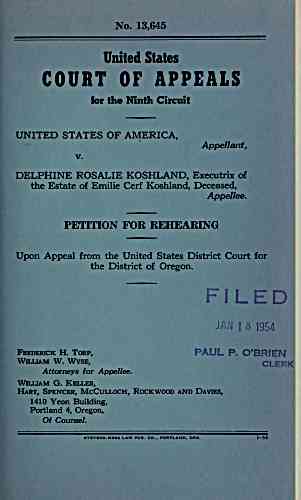 No. 13,645
United States
COURT OF APPEALS
for the Ninth Circuit
UNITED STATES OF AMERICA,
Appellant,
DELPHINE ROSALIE KOSHLAND, Executrix of
the Estate of Emilie Cerf Koshland, Deceased,
Appellee.
PETITION FOR REHEARING
Upon Appeal from the United States District Court for
the District of Oregon.
FILE
JAN 1 6 1954
Frederick H. Torp,
William W. Wyse,
Attorneys for Appellee.
WiLLMM G. Keller,
Hart, Spencer, McCulloch, Rockwood and Davies,
1410 Yeon Building,
Portland 4, Oregon,
Of Counsel.
PAUL P. O'BRIl
Cl
STEVENS-NESS LAW PUB. CO., PORTLAND, ORE.
1-54
---
archive.org Volume Name: govuscourtsca9briefs2780
Volume: http://archive.org/stream/govuscourtsca9briefs2780
Document Link: http://archive.org/stream/govuscourtsca9briefs2780#page/n1088/mode/1up
Top Keywords (auto-generated):
loss, basis, fire, tax, land, building, decision, below, adjusted, property, economic, district, respectfully, footnote, deduction
Top Key Phrases (auto-generated):
adjusted basis, economic loss, respectfully requests, internal revenue, torp william, tax payer, tax deduction, spencer mcculloch, rosalie koshland, mcculloch rockwood, koshland executrix, koshland deceased, keller hart, justed basis, income tax
Document Status: UGLY