v2794-521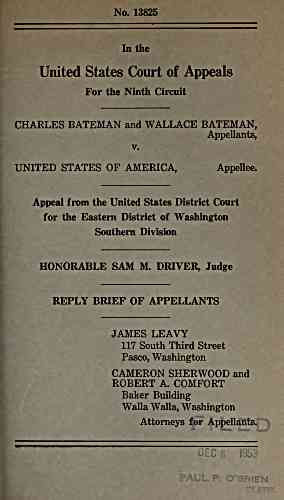 No. 13825
^ ^ ' " ' ' ' ' ' ^^^ ^^^^
In the
United States Court of Appeals
For the Ninth Circuit
CHARLES BATEMAN and WALLACE BATEMAN,
Appellants,
UNITED STATES OF AMERICA, Appellee.
Appeal from the United States District Court
for the Eastern District of Washington
Southern Division
HONORABLE SAM M. DRIVER, Judge
REPLY BRIEF OF APPELLANTS
JAMES LEAVY
117 South Third Street
Pasco, Washington
CAMERON SHERWOOD and
ROBERT A. COMFORT
Baker Building
Walla Walla, Washington
Attorneys for Appellants.
---
archive.org Volume Name: govuscourtsca9briefs2794
Volume: http://archive.org/stream/govuscourtsca9briefs2794
Document Link: http://archive.org/stream/govuscourtsca9briefs2794#page/n520/mode/1up
Top Keywords (auto-generated):
government, 2d, tax, bateman, gambling, income, club, witnesses, washington, surprise, submit, presumed, instruction, prejudicial, charles
Top Key Phrases (auto-generated):
charles bateman, income tax, washington southern, wallace bateman, sitting duck, james leavy, honorable sam, eastern district, cameron sherwood, 2d 493, 143 wash., washington cameron, walla washington, walla walla, thorne 143
Document Status: UGLY