v2795-701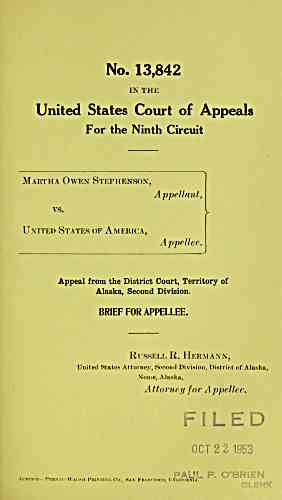 No. 13,842
m THE
United States Court of Appeals
For the Ninth Circuit
Martha Owen Stephenson.
vs.
ITxT TED States of America,
Appellant,
Appellee
Appeal from the District Court, Territory of
Alaska, Second Division.
BRIEF FOR APPELLEE.
Rtssell R. Hermann,
United States Attorney, Seconrl Division, District of Alaska,
Nome, Alaska,
Attorneif for Appellee,
FILED
OCT 2 2 1953
PAUt P. O'BRIEN
.IrsTM-f: I'fr.nai-Wai.sm Printin(; Co.. San Fka-v isro, CAMKoKTriA.
---
archive.org Volume Name: govuscourtsca9briefs2795
Volume: http://archive.org/stream/govuscourtsca9briefs2795
Document Link: http://archive.org/stream/govuscourtsca9briefs2795#page/n700/mode/1up
Top Keywords (auto-generated):
accomplice, federal, district, 2d, courts, cir, alaska, err, section, crime, panel, instructions, statutes, statute, supp
Top Key Phrases (auto-generated):
district courts, federal rules, cert denied, 62 stat., criminal procedure, peremptory challenges, josephus tester, italics mine., instruc tions, bailey bell, accom plice, webber 116, trict courts, testi mony, territorial statutes
Document Status: UGLY