v2812-345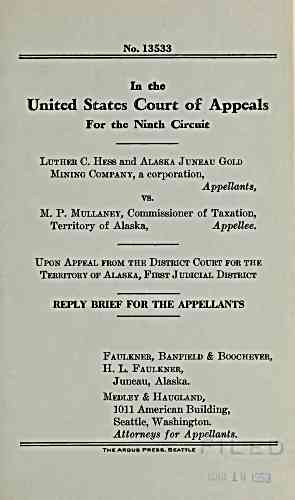 No. 13533
In the
For th Nintli Circuit
Luther C. Hess and Alaska Juneau Gold
Mining Company, a corporation,
Appellants,
vs.
MuLLANEY, Commissioner of Taxation,
Territory of Alaska, Appellee,
Upon Appeal from the District Court for the
Territory of Alaska, First Judicial District
REPLY BRIEF FOR THE APPELLANTS
Faulkner, Banfield & Boochever,
Faulkner,
Juneau, Alaska.
Medley & Haugland,
1011 American Building,
Seattle, Washington.
Attorneys for Appellants.
The Argus Press, Seattle
---
archive.org Volume Name: govuscourtsca9briefs2812
Volume: http://archive.org/stream/govuscourtsca9briefs2812
Document Link: http://archive.org/stream/govuscourtsca9briefs2812#page/n344/mode/1up
Top Keywords (auto-generated):
tax, property, alaska, uniformity, uniform, district, valuation, territory, taxes, taxation, local, equalization, claims, railroad, mining
Top Key Phrases (auto-generated):
non producing, uniform throughout, ultimate burden, tax payer, seattle washington., school districts, national bank, mullaney commissioner, mining claims, medley haugland, juneau gold, juneau alaska., judicial district, haugland 1011, gold mining
Document Status: UGLY