v2822-45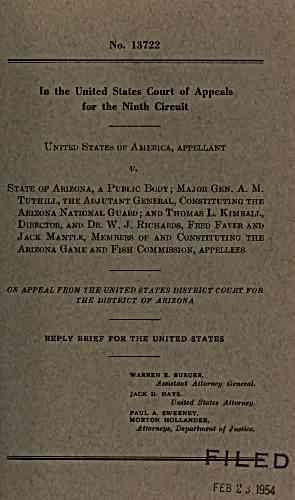 No. 13722
In the United States Court of Appeals
for the Ninth Circuit
United Stated of America, appellant
V,
State of Arizona, a Public Body ; Major Gen. A. M.
TuTHiLL, the Adjutant General, Constituting the
Arizona National Guard ; and Thomas L. Kimball,
Director, and Dr. W. J. Richards, Fred Faver and
Jack Manti.e, Members of and Constituting the
Arizona Game and Fish Commission, appellees
ON APPEAL FROM THE UNITED STATES DISTRICT COURT FOR
THE DISTRICT OF ARIZONA
REPLY BRIEF FOR THE UNITED STATES
WARREN E. BURGER,
Assistant Attorney General.
JACK D. HAYS,
United States Attorney.
PAUL A. SWEENEY,
MORTON HOLLANDER,
Attorneys, Department of Justice.
FfLC D
fEB ii J 1954
---
archive.org Volume Name: govuscourtsca9briefs2822
Volume: http://archive.org/stream/govuscourtsca9briefs2822
Document Link: http://archive.org/stream/govuscourtsca9briefs2822#page/n44/mode/1up
Top Keywords (auto-generated):
arizona, district, merits, dismissal, supreme, jurisdictional, sovereign, jurisdiction, federal, prejudice, land, issues, instant, indemnity, grounds
Top Key Phrases (auto-generated):
jurisdictional grounds, article iii, wisconsin central, virginia 295, sweeney morton, richards fred, public body, personal injuries, national guard, morton hollander, mexico light, major gen., light power, lansing drop, land bank
Document Status: UGLY