v2822-55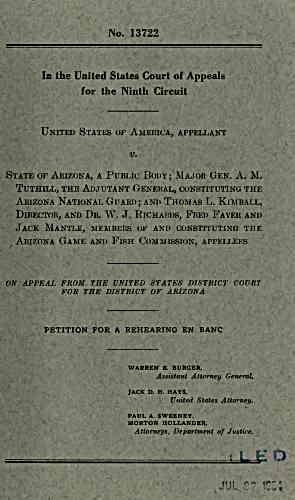 No. 13722
In the United States Court of Appeals
for the Ninth Circuit
United States of America, appellant
State of Aeizona, a Public Body ; Major Gen. A. M.
TuTHiLL, THE Adjutant General, constituting the
Arizona National Guard ; and Thomas L. Kimball,
Director, and Dr. W. J. Richards, Fred Faver and
Jack Mantle, members of and constituting the
Arizona Game and Fish Commission, appellees
ON APPEAL FROM THE UNITED STATES DISTRICT COURT
FOR THE DISTRICT OF ARIZONA
petition FOR A REHEARING EN BANC
WARREN E. BURGER,
Assistant Attorney General.
JACK D. H. HAYS,
United States Attorney.
PAUL A. SWEENEY,
MORTON HOLLANDER,
Attorneys, Department of Justice.
id
---
archive.org Volume Name: govuscourtsca9briefs2822
Volume: http://archive.org/stream/govuscourtsca9briefs2822
Document Link: http://archive.org/stream/govuscourtsca9briefs2822#page/n54/mode/1up
Top Keywords (auto-generated):
indemnity, arizona, 2d, 1953, federal, contribution, common, 1954, rehearing, right, merits, government, en, district, banc
Top Key Phrases (auto-generated):
rehearing en, en banc, standard oil, 2d 846, tort claims, morton hollander, issues raised, 846 1953, 507 1954, 1953 ., yellow cab, western pacific, uniform laws, torts 1113, tortfeasors 81
Document Status: UGLY