v2826-555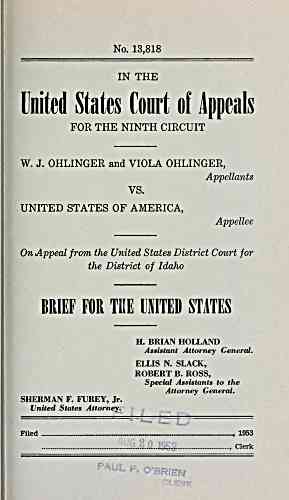 No. 13,818
IN THE
United States Court of Appeals
FOR THE NINTH CIRCUIT
OHLINGER and VIOLA OHLINGER,
Appellants
VS.
UNITED STATES OF AMERICA,
Appellee
On Appeal from the United States District Court for
the District of Idaho
BRIEF FOR TilE MIXED STATES
BRIAN HOLLAND
Assistant Attorney General.
ELUS N. SLACK,
ROBERT B. ROSS,
Special Assistants to the
Attorney General.
SHERMAN F. FUREY, Jr.
United States Attorney.
Filed , 1953
..:i..8..Q...lSi.S. , Clerk
^UL p. O'BRFcru^
---
archive.org Volume Name: govuscourtsca9briefs2826
Volume: http://archive.org/stream/govuscourtsca9briefs2826
Document Link: http://archive.org/stream/govuscourtsca9briefs2826#page/n554/mode/1up
Top Keywords (auto-generated):
fraud, tax, taxpayers, 2d, commissioner, taxpayer, returns, burden, penalty, income, deficiency, cir, district, sales, evade
Top Key Phrases (auto-generated):
fraud penalty, tax returns, internal revenue, evade tax, income tax, tax consultant, revenue code, bank statements, tax payers, proving fraud, fraud penalties, federal rules, deputy collector, 26 usca, tax laws
Document Status: UGLY