v2835-293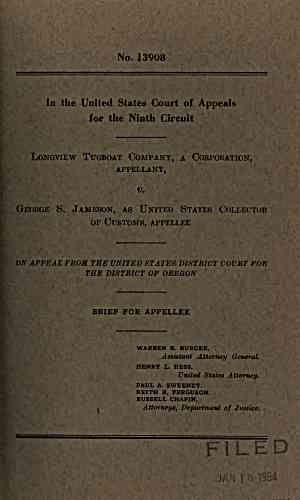 No. 13908
In the United States Court of Appeals
for the Ninth Circuit
LoNGviEw Tugboat Company, a Gorpokation,
APPELLANT,
Geokge S. Jameson, as United States Collector
OF Customs, appellee
ON APPEAL FROM THE UNITED STATES DISTRICT COURT FOR
THE DISTRICT OF OREGON
BRIEF FOR APPELLEE
WARREN E. BURGER,
Assistant Attorney General.
HENRY L. HESS,
United States Attorney.
PAUL A. SWEENEY,
KEITH R. FERGUSON,
RUSSELL CHAPIN,
Attorneys, Department of Justice.
1 I r
I ii
---
archive.org Volume Name: govuscourtsca9briefs2835
Volume: http://archive.org/stream/govuscourtsca9briefs2835
Document Link: http://archive.org/stream/govuscourtsca9briefs2835#page/n292/mode/1up
Top Keywords (auto-generated):
inspection, barge, barges, seagoing, sea, coast, guard, vessels, scow, horse, section, vessel, customs, 2d, collector
Top Key Phrases (auto-generated):
coast guard, sea horse, seagoing barges, seagoing barge, gross tons, flat bottomed, cargo carriers, classify vessels, carriers inc., 424 428, 35 stat., 2d 488, 1908 35, self propelled, reorganization plan
Document Status: UGLY