v2855-403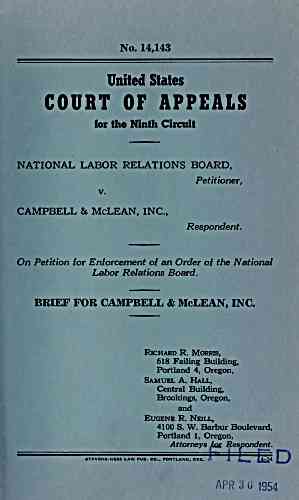 No. 14,143
United States
COURT OF APPEALS
for the Ninth Circuit
NATIONAL LABOR RELATIONS BOARD,
Petitioner,
CAMPBELL 86 McLEAN, INC.,
Respondent.
On Petition ior Enforcement oi an Order of the National
Labor Relations Board.
BRIEF FOR CAMPBELL & McLEAN, INC.
Richard R. Morris,
618 Failing Building,
Portland 4, Oregon,
Samuel A. Hall,
Central Building,
Brookings, Oregon,
and
Eugene R. Neill,
4100 S. W. Barbur Boulevard,
Portland 1, Oregon,
Attorneys JLof Respon dent .
STEVENS-NESS LAW PUB. CO., PORTLA
ND, ORE. '' i ^^ IjliS*
APR 3 1954
---
archive.org Volume Name: govuscourtsca9briefs2855
Volume: http://archive.org/stream/govuscourtsca9briefs2855
Document Link: http://archive.org/stream/govuscourtsca9briefs2855#page/n402/mode/1up
Top Keywords (auto-generated):
tenvorde, tegner, respondent, gold, beach, union, plant, campbell, discharge, hyster, eugene, march, veneer, superintendent, employees
Top Key Phrases (auto-generated):
gold beach, john tenvorde, beach plant, labor relations, national labor, superintendent tegner, observed tenvorde, coos bay, mitchell brothers, green veneer, eugene plant, shipping documents, mclean inc., wage increase, union activity
Document Status: UGLY