v2857-857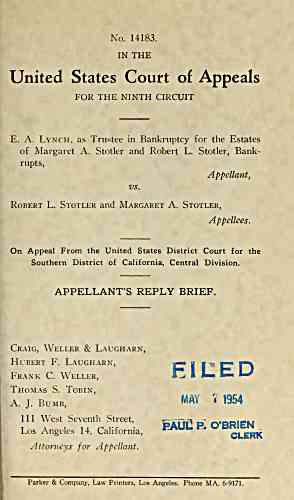 No. 14183.
IN THE
United States Court of Appeals
FOR THE NINTH CIRCUIT
Lynch, as Trustee in Bankruptcy for the Estates
of Margaret A. Stotler and Robert L. Stotler, Bank-
rupts,
Appellant,
vs.
Robert L. Stotler and Margaret A. Stotler,
Appellees.
On Appeal From the United States District Court for the
Southern District of California, Central Division.
APPELLANT'S REPLY BRIEF.
Craig, Weller & Laugharn,
, Hubert F. Laugharn,
Frank C. Weller,
Thomas S. Tobin,
Bumb,
111 West Seventh Street,
Los Angeles 14, CaHfornia,
Attorneys for Appellant.
EIIIED
MAY 7 1954
&VUC P; O'BRIEK _
CLERK
Parker & Company, Law Printers, Los Angeles. Phone MA. 6-9 17L
---
archive.org Volume Name: govuscourtsca9briefs2857
Volume: http://archive.org/stream/govuscourtsca9briefs2857
Document Link: http://archive.org/stream/govuscourtsca9briefs2857#page/n856/mode/1up
Top Keywords (auto-generated):
cal, cash, actual, property, estimate, declaration, stotler, compliance, code, civil, 1263, homestead, pac, ashley, supra
Top Key Phrases (auto-generated):
actual cash, civil code, code section, substantial compliance, section 1263, 54 cal., weller thomas, weller laugharn, stotler bank, southern district, section 1263., respectfully submitted, pacific nat., olmstead 54, laugharn hubert
Document Status: UGLY