v2924-848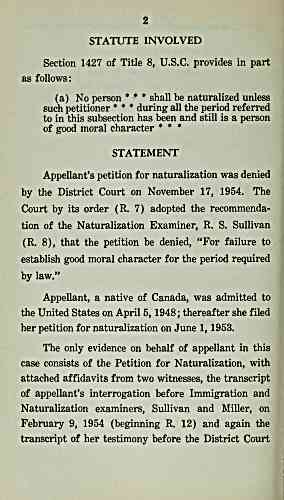 2
STATUTE INVOLVED
Section 1427 of Title 8, U.S.C. provides in part
as follows:
(a) No person * * * shall be naturalized unless
such petitioner * * * during all the period referred
to in this subsection has been and still is a person
of good moral character * * *
STATEMENT
Appellant's petition for naturalization was denied
by the District Court on November 17, 1954. The
Court by its order (R. 7) adopted the recommenda-
tion of the Naturalization Examiner, R. S. Sullivan
(R. 8), that the petition be denied, "For failure to
establish good moral character for the period required
by law."
Appellant, a native of Canada, was admitted to
the United States on April 5, 1948 ; thereafter she filed
her petition for naturalization on June 1, 1953.
The only evidence on behalf of appellant in this
case consists of the Petition for Naturalization, with
attached affidavits from two witnesses, the transcript
of appellant's interrogation before Immigration and
Naturalization examiners, Sullivan and Miller, on
February 9, 1954 (beginning R. 12) and again the
transcript of her testimony before the District Court
---
archive.org Volume Name: govuscourtsca9briefs2924
Volume: http://archive.org/stream/govuscourtsca9briefs2924
Document Link: http://archive.org/stream/govuscourtsca9briefs2924#page/n847/mode/1up
Top Keywords (auto-generated):
moral, naturalization, district, petition, wong, sexual, 2d, 1954, instant, hotel, discretion, citizenship, petitioner, november, miller
Top Key Phrases (auto-generated):
sexual indiscretion, james wong, evi dence, appel lant, 2d 244, 1954 beginning, woman separated, wholly rational, view hotel., view hotel, various chinese, uralization explains, unused bed, unmarried women., unmarried male
Document Status: UGLY