v2930-1025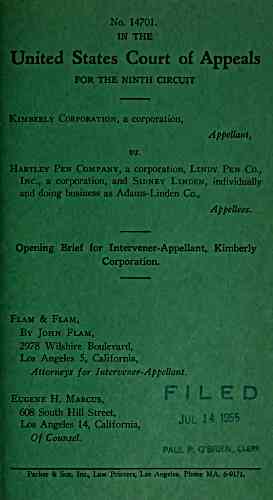 IN THE
United States Court of Appeals
FOR THE NINTH CIRCUIT
Kimberly Corporation, a corporation,
Appellant,
vs.
Hartley Pen Company, a corporation, Lindy Pen Co.,
Inc., a corporation, and Sidney Linden, individually
and doing business as Adams-Linden Co.,
Appellees.
Opening Brief for Intervener-Appellant, Kimberly
Corporation.
Flam & Flam,
By John Flam,
2978 Wilshire Boulevard,
Los Angeles 5, California,
Attorneys for Intervener-Appellant.
Eugene H. Marcus,
608 South Hill Street,
Los Angeles 14, California,
Of Counsel.
Parker & Son, Inc., Law Printers, Los Angeles. Phone MA. 6-9171.
D
---
archive.org Volume Name: govuscourtsca9briefs2930
Volume: http://archive.org/stream/govuscourtsca9briefs2930
Document Link: http://archive.org/stream/govuscourtsca9briefs2930#page/n1024/mode/1up
Top Keywords (auto-generated):
sears, patent, intervener, 2d, schrader, finding, miketta, 1947, district, inventions, june, fraud, california, cal, assign
Top Key Phrases (auto-generated):
hartley pen, inter vener, civil procedure, june 1947, kimberly corporation, appel lant, assign inventions, patent rights, letters patent, finding xv, 498 009, federal rules, confidential relationship, finding xiv, clearly erroneous
Document Status: UGLY