v2946-7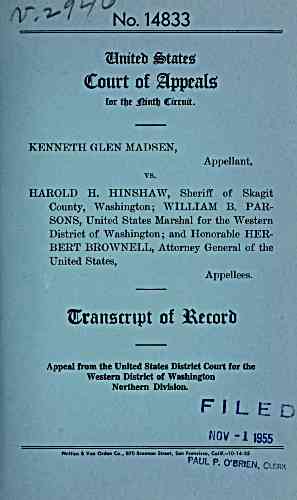 ^^ ' No. 14833
nitetr States
Court of ^ppealg
for tfie iintfi Circuit.
KENNETH GLEN MADSEN,
Appellant,
vs.
HAROLD H. HINSHAW, Sheriff of Skagit
County, Washing-ton; WILLIAM B. PAR-
SONS, United States Marshal for the Western
District of Washington; and Honorable HER-
BERT BROWNELL, Attorney General of the
United States,
Appellees.
transcript of 3ccorti
Appeal from the United States District Court for the
Western District of Washington
Northern Division.
F" ' L E D
WOV -1 1955
Phillips & Van Orden Co., 870 Brannan Street, San Francisco, Calif. -10-14-55
PAUL P. O'BRIEN. Clerk
---
archive.org Volume Name: govuscourtsca9briefs2946
Volume: http://archive.org/stream/govuscourtsca9briefs2946
Document Link: http://archive.org/stream/govuscourtsca9briefs2946#page/n6/mode/1up
Top Keywords (auto-generated):
district, petitioner, 2d, cir, habeas, corpus, 2255, alaska, petition, jurisdiction, ct, kenneth, section, madsen, washington
Top Key Phrases (auto-generated):
habeas corpus, kenneth glen, glen madsen, section 2255, western district, degree murder, habeas corpus., washington northern, skagit county, herbert brownell, peti tioner, alaska district, district courts, lael simmons, sixth amendment
Document Status: UGLY