v2946-873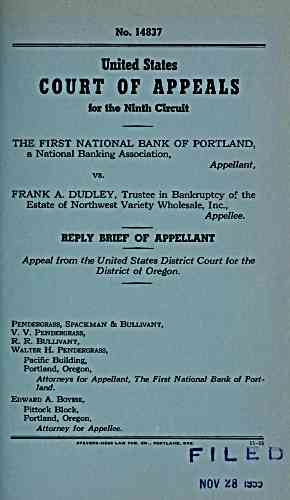 No. 14837
United States
COURT OF APPEALS
for the Ninth Circuit
THE FIRST NATIONAL BANK OF PORTLAND,
a National Banking Association,
Appellant,
vs.
FRANK A. DUDLEY, Trustee in Bankruptcy of the
Estate of Northwest Variety Wholesale, Inc.,
Appellee.
REPLY BRIEF OF APPELLANT
Appeal from the United States District Court for the
District of Oregon.
PeNDERGRASS, SpACKMAN & BULLIVANT,
PeNDERGRASS,

bullivant,
Walter H. Pendergrass,
Pacific Building,
Portland, Oregon,
Attorneys for Appellant, The First National Bank of Port-
land.
Edward A. Boyrie,
Pittock Block,
Portland, Oregon,
Attorney for Appellee.
STEVCNS-NESE LAW PUB. CO., PORTLAND, ORE. 11-55
Ff L B
NOV U taaa
---
archive.org Volume Name: govuscourtsca9briefs2946
Volume: http://archive.org/stream/govuscourtsca9briefs2946
Document Link: http://archive.org/stream/govuscourtsca9briefs2946#page/n872/mode/1up
Top Keywords (auto-generated):
bank, bankrupt, right, loble, creditors, special, proposition, bankruptcy, 2d, trust, fund, extension, creditor, estoppel, deposit
Top Key Phrases (auto-generated):
trust fund, national bank, bank rupt, union bank, special deposit, pro rata, technical sense, special fund, bank trust, bank 98, 448 57, wholesale inc., waiver estoppel, variety wholesale, unequal distribution
Document Status: UGLY