v2953-361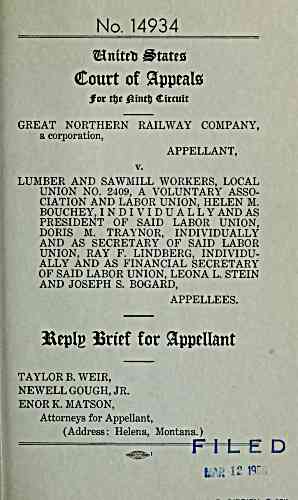 No. 14934
WLnitfb States
Court of Appeals
for tfyt &int Circuit
GREAT NORTHERN RAILWAY COMPANY,
a corporation,
APPELLANT,
LUMBER AND SAWMILL WORKERS, LOCAL
UNION NO. 2409, A VOLUNTARY ASSO-
CIATION AND LABOR UNION, HELEN M.
BOUCHEY, INDIVIDUALLY AND AS
PRESIDENT OF SAID LABOR UNION,
DORIS M. TRAYNOR, INDIVIDUALLY
AND AS SECRETARY OF SAID LABOR
UNION, RAY F. LINDBERG, INDIVIDU-
ALLY AND AS FINANCIAL SECRETARY
OF SAID LABOR UNION, LEONA L. STEIN
AND JOSEPH S. BOGARD,
APPELLEES.
Beplg 3Srtef for Appellant
TAYLOR B. WEIR,
NEWELL GOUGH, JR.
ENOR K. MATSON,
Attorneys for Appellant,
(Address: Helena, Montana.)
^, FI L E D
MAR 2 195
---
archive.org Volume Name: govuscourtsca9briefs2953
Volume: http://archive.org/stream/govuscourtsca9briefs2953
Document Link: http://archive.org/stream/govuscourtsca9briefs2953#page/n360/mode/1up
Top Keywords (auto-generated):
guam, 1955, dismissal, costs, district, 2d, august, prejudice, rules, labor, discretion, bond, abuse, union, continuance
Top Key Phrases (auto-generated):
labor union, rail carrier, san francisco, pacific fruit, fruit produce, federal rules, civil procedure, struck plant, sound discretion, national labor, labor laws, gross abuse, du pont, au gust, usca dc
Document Status: UGLY