v2953-397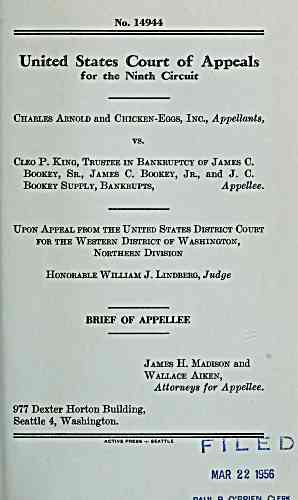 No. 14944
for tli Ninth Circuit
Charles Aenold and Chicken-Eggs, Inc., Appellants,
vs.
Cleo P. King, Trustee in Bankruptcy of James C.
Bookey, Sr., James C. Bookey, Jr., and J. C.
Bookey Supply, Bankrupts, Appellee.
Upon Appeal from the United States District Court
for the Western District of Washington,
Northern Division
Honorable William J. Lindberg, Judge
BRIEF OF APPELLEE
James H. Madison and
Wallace Aiken,
Attorneys for Appellee.
977 Dexter Horton Building,
Seattle 4, Washington.
ACTIVE PRESS :- SEATTLE
Fi L l
MAR 22 1956
j-jaiii D rt'DDIPN riFRK
---
archive.org Volume Name: govuscourtsca9briefs2953
Volume: http://archive.org/stream/govuscourtsca9briefs2953
Document Link: http://archive.org/stream/govuscourtsca9briefs2953#page/n396/mode/1up
Top Keywords (auto-generated):
bookey, property, eggs, supply, chicken, inc, referee, bankruptcy, transfer, trustee, summary, business, arnold, jurisdiction, class
Top Key Phrases (auto-generated):
chicken eggs, bookey supply, eggs inc., bulk sales, charles arnold, summary jurisdiction, safe deposit, deposit box, merely colorable, bookey supply., ap pellants, accounts receivable, substantial adverse, prop erty, continuing operation
Document Status: UGLY