v2977-959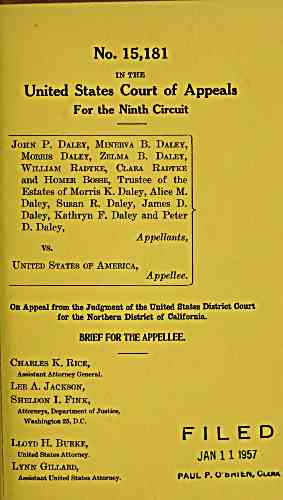 No. 15,181
IN THE
United States Court of Appeals
For the Ninth Circuit
John p. Daley, Minerva B. Daley,
Morris Daley, Zelma B. Daley,
William Radtke, Clara Radtke
and Homer Bosse, Trustee of the
Estates of Morris K. Daley, Alice M.
Daley, Susan R. Daley, James D.
Daley, Kathryn F. Daley and Peter
Daley,
Appellants,
vs.
United States of America,
Appellee.
On Appeal from the Judgment of the United States District Court
for the Northern District of California.
BRIEF FOR THE APPELLEE.
Charles K. Rice,
Assistant Attorney General.
Lee a. Jackson,
Sheldon I. Fink,
Attorneys, Department of Justice,
Washington 25, D.C.
Lloyd H. Bltike,
United States Attorney.
Lynn Gillard,
Assistant United States Attorney.
FILED
JAN 1 1 1957
PAUL P. O'brtltN, Cl6h
---
archive.org Volume Name: govuscourtsca9briefs2977
Volume: http://archive.org/stream/govuscourtsca9briefs2977
Document Link: http://archive.org/stream/govuscourtsca9briefs2977#page/n958/mode/1up
Top Keywords (auto-generated):
contract, income, method, completed, taxpayers, basis, accrual, 1942, daley, tax, 1943, delta, reported, accounting, district
Top Key Phrases (auto-generated):
completed contract, contract method, delta war, accrual basis, war venture, contract basis, accrual method, gross income, delta contract, income tax, net income, daley brothers, clearly reflect, accrual basis., tax returns
Document Status: UGLY