v2999-619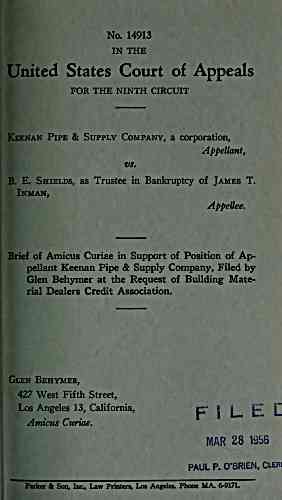 No. 14913
IN THE
United States Court of Appeals
FOR THE NINTH CIRCUIT
Keenan Pipe & Supply Company, a corporation,
Appellant,
vs.
Shields, as Trustee in Bankruptcy of James T.
Inman,
Appellee.
Brief of Amicus Curiae in Support of Position of Ap-
pellant Keenan Pipe & Supply Company, Filed by
Glen Behymer at the Request of Building Mate-
rial Dealers Credit Association.
Glen Behymer,
427 West Fifth Street,
Los Angeles 13, California,
Amicus Curiae.
F I L E C
MAR 28 1955
PAUL p. O'BRIEN, CUERi
Parker & Son, Inc., Law Printers, Los Angeles. Phone MA. 6-9171.
i
---
archive.org Volume Name: govuscourtsca9briefs2999
Volume: http://archive.org/stream/govuscourtsca9briefs2999
Document Link: http://archive.org/stream/govuscourtsca9briefs2999#page/n618/mode/1up
Top Keywords (auto-generated):
contractor, materialman, prime, lien, public, right, subcontractor, materials, cal, work, job, bankruptcy, stop, furnished, file
Top Key Phrases (auto-generated):
prime contractor, public works, public work, public body, private work, materials furnished, works job, pipe supply, mechanics lien, keenan pipe, building industry, works bond, subcon tractor, sub contractor, private job
Document Status: UGLY