v2999-867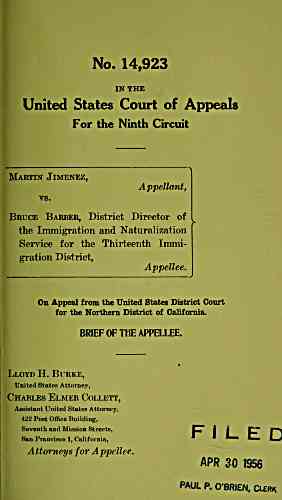 No. 14,923
IN THE
United States Court of Appeals
For the Ninth Circuit
Martin Jimenez,
Appellant,
vs.
Bruce Barber, District Director of
the Immigration and Naturalization
Serdce for the Thirteenth Immi-
gration District,
Appellee.
On Appeal from the United States District Court
for the Northern District of California,
BRIEF OF THE APPELLEE.
Lloyd H. Burke,
United States Attorney,
Charles Elmer Collett,
Assistant United States x'Vttorney,
422 Post Office Building,
Seventh and Mission Streets,
San Francisco 1, California,
Attorneys for Appellee.
FILED
APR 30 1956
PAUL P. O'BRIEN, Clerk
---
archive.org Volume Name: govuscourtsca9briefs2999
Volume: http://archive.org/stream/govuscourtsca9briefs2999
Document Link: http://archive.org/stream/govuscourtsca9briefs2999#page/n866/mode/1up
Top Keywords (auto-generated):
2d, deportation, suspension, district, immigration, alien, denied, application, shaughnessy, questions, congress, relief, rel, 155, director
Top Key Phrases (auto-generated):
district director, cert denied, ques tions, actual controversy, landon 212, judicial intervention., watkins 166, tod 263, thirteenth immi, shaughnessy ca, shaughnessy 342, shaughnessy 183, shaughnessy 180, san francisco, rel weddeke
Document Status: UGLY