v3022-161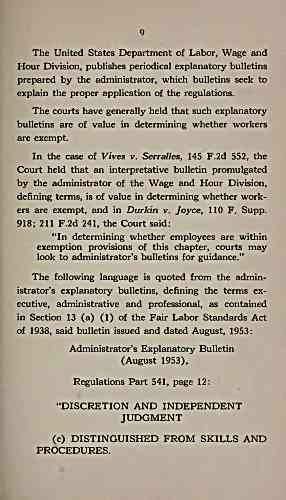 The United States Department of Labor, Wage and
Hour Division, publishes periodical explanatory bulletins
prepared by the administrator, which bulletins seek to
explain the proper application of the regulations.
The courts have generally held that such explanatory
bulletins are of value in determining whether workers
are exempt.
In the case of Vives v. Serralles, 145 F.2d 552, the
Court held that an interpretative bulletin promulgated
by the administrator of the Wage and Hour Division,
defining terms, is of value in determining whether work-
ers are exempt, and in Durkin v. Joyce, 110 F. Supp.
918; 211 F.2d 241, the Court said:
"In determining whether employees are within
exemption provisions of this chapter, courts may
look to administrator's bulletins for guidance."
The following language is quoted from the admin-
istrator's explanatory bulletins, defining the terms ex-
ecutive, administrative and professional, as contained
in Section 13 (a) (1) of the Fair Labor Standards Act
of 1938, said bulletin issued and dated August, 1953:
Administrator's Explanatory Bulletin
(August 1953),
Regulations Part 541, page 12:
"DISCRETION AND INDEPENDENT
JUDGMENT
(c) DISTINGUISHED FROM SKILLS AND
PROCEDURES.
---
archive.org Volume Name: govuscourtsca9briefs3022
Volume: http://archive.org/stream/govuscourtsca9briefs3022
Document Link: http://archive.org/stream/govuscourtsca9briefs3022#page/n160/mode/1up
Top Keywords (auto-generated):
inspector, standards, labor, work, field, inspectors, fair, type, regulations, knowledge, hours, contract, explanatory, operation, bulletins
Top Key Phrases (auto-generated):
labor standards, fair labor, belo type, august 1953, explanatory bulletins, explanatory bulletin, bulletin august, branch office, 60 hours, 1953 regulations, weekly wage, tial importance, substan tial, specialized intellectual, performing work
Document Status: UGLY