v3022-957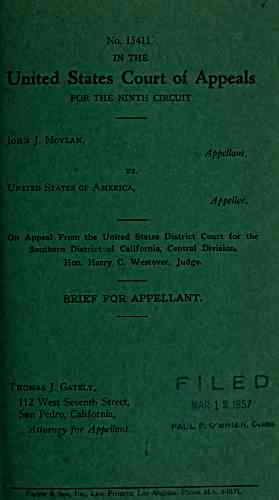 15411,
IN THE
United States Coutt of Appeals
FOR THE NINTH CIRCUIT
John J, Moylan,
vs.
United States of America,
Appellant,
Appellee.
On Appeal From the United States District Court for the
Southern District of California, Central Division.
Hon. Harry C. Westover, Judge.
BRIEF FOR APPELLANT.
Thomas J. Gately,
112 West Seventh Street,
San Pedro, California,
Attorney for Appellant.
Parker & Son, Inc., Law Printers, Los Angeles. Phone MA. 6-917L
---
archive.org Volume Name: govuscourtsca9briefs3022
Volume: http://archive.org/stream/govuscourtsca9briefs3022
Document Link: http://archive.org/stream/govuscourtsca9briefs3022#page/n956/mode/1up
Top Keywords (auto-generated):
services, contract, agent, government, authority, compensation, jurisprudence, forwarding, brokerage, freight, 1951, requested, paid, officer, contracts
Top Key Phrases (auto-generated):
american jurisprudence, forwarding agent, services administration, common understanding, freight forwarders, forwarding services, california jurisprudence, services rendered, quantum meruit, private freight, code title, appel lee, ap pellant, unilateral contract, southern pacific
Document Status: UGLY