v3027-479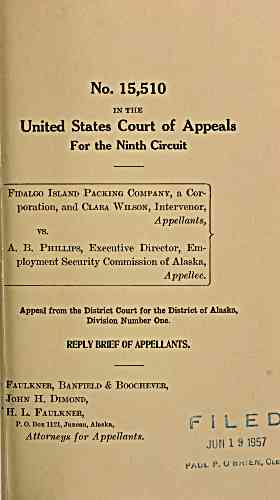 No. 15,510
IN THE
United States Court of Appeals
For the Ninth Circuit
FiDALGO Island Packing Company, a Cor-
poration, and Clara Wilson, Intervenor,
Appellants,
vs.
Phillips, Executive Director, Em-
ployment Security Commission of Alaska,
Appellee.
Appeal from the District Court for the District of Alaska,
Division Number One.
REPLY BRIEF OF APPELLANTS.
Faulkner, Banfield & Boochever,
John H. Dimond,
'H. L. Faulkner,
Box 1121, Juneau, Alaska,
Attorneys for Appellants.
F 1 L E 1
JUN 1 9 1957
t'AU
U H. Oa;-i:tNi Clei
---
archive.org Volume Name: govuscourtsca9briefs3027
Volume: http://archive.org/stream/govuscourtsca9briefs3027
Document Link: http://archive.org/stream/govuscourtsca9briefs3027#page/n478/mode/1up
Top Keywords (auto-generated):
etter, defenbach, keeton, ralph, fee, malott, mckevitt, max, weyen, paul, district, fees, trustee, right, life
Top Key Phrases (auto-generated):
max etter, sun life, life assurance, flat fee, tax liens, spokane washington, contingent fee, washington northern, max etter., eastern district, life insurance, internal revenue, insurance policies, causes nos., services rendered
Document Status: UGLY