v3034-335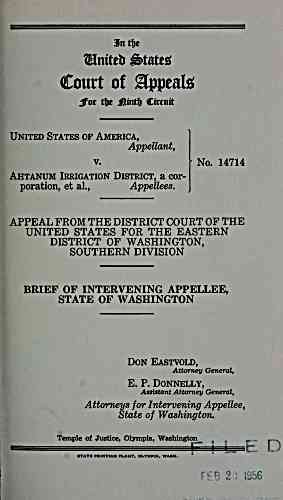 3n tlje
Wlnittb States
Court of Appeal*
Jfor tfie Jlintf) Circuit
United States of America,
Appellant,
Ahtanum Irrigation District, a cor-
poration, et al., Appellees.
h No. 14714
APPEAL FROM THE DISTRICT COURT OF THE
UNITED STATES FOR THE EASTERN
DISTRICT OF WASHINGTON,
SOUTHERN DIVISION
BRIEF OF INTERVENING APPELLEE,
STATE OF WASHINGTON
Don Eastvold,
Attorney General,
Donnelly,
Assistant Attorney General,
Attorneys for Intervening Appellee,
State of Washington.
Temple of Justice, Olympia, Washington
STATE PRINTING PLANT. OLYMPIA. WASH.
riLH D
M
---
archive.org Volume Name: govuscourtsca9briefs3034
Volume: http://archive.org/stream/govuscourtsca9briefs3034
Document Link: http://archive.org/stream/govuscourtsca9briefs3034#page/n334/mode/1up
Top Keywords (auto-generated):
water, rights, government, reservation, lands, right, ahtanum, land, indian, indians, washington, waters, treaty, irrigation, creek
Top Key Phrases (auto-generated):
water rights, ahtanum creek, water right, property rights, irrigation district, yakima indian, water users, ahtanum irrigation, yakima county, indian nation, federal government, entire flow, indian affairs, public lands, low water
Document Status: UGLY