v3046-1157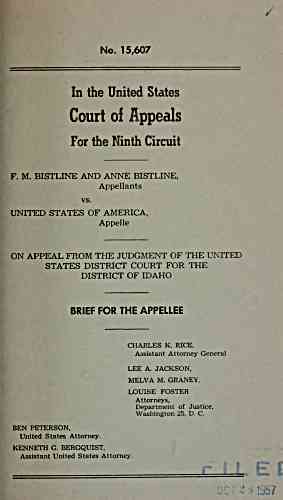 /
No. 15,607
In the United States
Court of Appeals
For the Ninth Circuit
BISTLINE AND ANNE BISTLINE,
Appellants
vs.
UNITED STATES OF AMERICA,
Appelle
ON APPEAL FROM THE JUDGMENT OF THE UNITED
STATES DISTRICT COURT FOR THE
DISTRICT OF IDAHO
BRIEF FOR THE APPELLEE
CHARLES K. RICE,
Assistant Attorney General
LEE A. JACKSON,
MELVA M. GRANEY.
LOUISE FOSTER
Attorneys,
Department of Justice,
Washington 25. D. C.
BEN PETERSON,
United States Attorney.
KENNETH G. BERGQUIST,
Assistant United States Attorney.
EC
---
archive.org Volume Name: govuscourtsca9briefs3046
Volume: http://archive.org/stream/govuscourtsca9briefs3046
Document Link: http://archive.org/stream/govuscourtsca9briefs3046#page/n1156/mode/1up
Top Keywords (auto-generated):
taxpayer, property, business, district, commissioner, 2d, gain, ordinary, land, westvaco, estate, trade, tract, sales, income
Top Key Phrases (auto-generated):
tax payer, section 117, estate business, vacant lots, commissioner supra, westvaco tract, stockton harbor, prop erty, ordinary income., ordinary income, michaud flats, harbor indus., gain realized, capital gain., land involved
Document Status: UGLY