v3081-843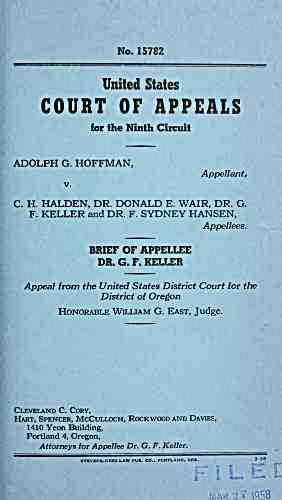 No. 157S2
United States
COURT OF APPEALS
for the Ninth Circuit
ADOLPH G. HOFFMAN,
Appellant,
HALDEN, DR. DONALD E. WAIR, DR. G.

KELLER and DR. F. SYDNEY HANSEN,
Appellees.
BRIEF OF APPELLEE
DR. G. F. KELLER
Appeal from the United States District Court for the
District of Oregon
Honorable William G. East, Judge.
Cleveland C. Cory,
Hart, Spencer, McCulloch, Rockwood and Davies,
1410 Yeon Building,
Portland 4, Oregon,
Attorneys for Appellee Dr. G. F. Keller.
STEVENS-NESS LAW PUB. CO.. PORTLAND, ORE.
MAR 2 '(
---
archive.org Volume Name: govuscourtsca9briefs3081
Volume: http://archive.org/stream/govuscourtsca9briefs3081
Document Link: http://archive.org/stream/govuscourtsca9briefs3081#page/n842/mode/1up
Top Keywords (auto-generated):
2d, keller, rights, dr, civil, ed, ct, oregon, section, hospital, supp, mental, ill, den, statutes
Top Key Phrases (auto-generated):
civil rights, mentally ill, morningside hospital, constitutional rights, multnomah county, compton supra, rehearing den., mental hospital, constitu tional, 937 95, 651 71, 231 241, 1981 1988, title 52, title 42
Document Status: UGLY