v3108-7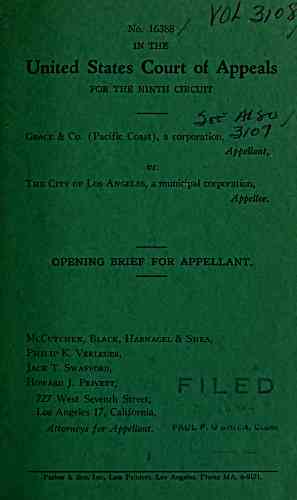 No. 16388
IN THE
United States Court of Appeals
FOR THE NINTH CIRCUIT
,^rr Alt y^
Grace & Co. (Pacific Coast), a corporation, '^' ^ '
Appellant,
vs.
The City of Los Angeles, a municpal corporation,
Appellee.
OPENING BRIEF FOR APPELLANT.
McCuTCHEN, Black, Harnagel & Shea,
Phllip K. Verleger,
Jack T. Swafford,
Howard J. Privett,
727 West Seventh Street,
Los Angeles 17, California,
Attorneys for Appellant.
Parker & Son, Inc., Law Printers, Los Angeles. Phone MA. 6-9171.
y
---
archive.org Volume Name: govuscourtsca9briefs3108
Volume: http://archive.org/stream/govuscourtsca9briefs3108
Document Link: http://archive.org/stream/govuscourtsca9briefs3108#page/n6/mode/1up
Top Keywords (auto-generated):
city, pipe, water, 2d, shed, iron, cast, harbor, department, soil, inch, duty, corrosion, finding, berth
Top Key Phrases (auto-generated):
cast iron, los angeles, water pipe, berth 59, inch cast, iron pipe, iron water, harbor department, water department, transit shed, graphitic corrosion, highly corrosive, signal street, outer harbor, res ipsa
Document Status: UGLY