v3127-1297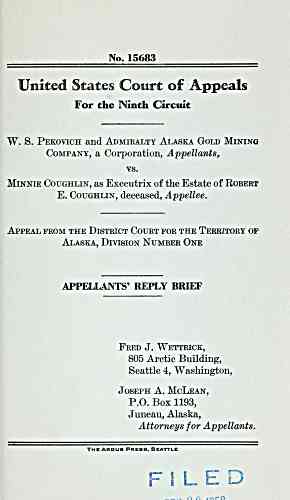 No. 15683
United States Court of Appeals
For the Ninth Circuit
Pekovich and Admiralty Alaska Gold Mining
Company, a Corporation, Appellants,
vs.
Minnie Coughlin, as Executrix of the Estate of Robert
Coughlin, deceased, Appellee.
Appeal from the District Court for the Territory op
Alaska, Division Number One
APPELLANTS' REPLY BRIEF
Fred J. Wettrick,
805 Arctic Building,
Seattle 4, Washington,
Joseph A. McLean,
P.O. Box 1193,
Juneau, Alaska,
Attorneys for Appellants.
The ARGUS PRESS, Seattue
H Q fcrMfSOd
-. ) A '-ro
---
archive.org Volume Name: govuscourtsca9briefs3127
Volume: http://archive.org/stream/govuscourtsca9briefs3127
Document Link: http://archive.org/stream/govuscourtsca9briefs3127#page/n1296/mode/1up
Top Keywords (auto-generated):
coughlin, stock, salary, month, 75, pekovich, compensation, work, services, alaska, lower, addition, shares, money, estate
Top Key Phrases (auto-generated):
minnie coughlin, gold mining, alaska gold, admiralty alaska, 4000 shares, wettrick 805, washington joseph, stockholders meeting, salary pekovich, money became, mentary means, juneau alaska, comple mentary, building seattle, box 1193,
Document Status: UGLY