v3181x-1021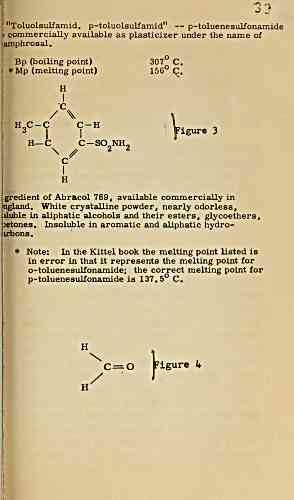 j 3
"Toluolsulfamid. p-toluolsulfamid n -- p -toluene sulfonamide
l commercially available as plasticizer under the name of
amphrosal.
Bp (boiling point) 307 C.
Mp (melting point) 156 C.
H
I
H Q C-C C-H i L .
3 Figure 3
H C C SO NH
/ 2 2
C
I
H
i.gredient of Abracol 789, available commercially in
ngland. White crystalline powder, nearly odorless,
)luble in aliphatic alcohols and their esters, glycoethers,
ketones. Insoluble in aromatic and aliphatic hydro-
irbons.
Note: In the Kittel book the melting point listed is
in error in that it represents the melting point for
o-toluenesulfonamide; the correct melting point for
p- toluene sulfonamide is 137.5 C.
H
C = figure k
= Fi
H
---
archive.org Volume Name: govuscourtsca9briefs3181x
Volume: http://archive.org/stream/govuscourtsca9briefs3181x
Document Link: http://archive.org/stream/govuscourtsca9briefs3181x#page/n1020/mode/1up
Top Keywords (auto-generated):
resin, melamine, formaldehyde, deponent, patent, grams, aromatic, skilled, kazenas, chemist, resins, product, japanese, using, toluenesulfonamide
Top Key Phrases (auto-generated):
skilled chemist, japanese patent, kazenas patent, aromatic hydrocarbon, melamine formaldehyde, switzer brothers, brothers inc., resin product, hydrocarbon solvent, formaldehyde resins, deponent concludes, toluenesulf onamide, thermoset resin, resin produced, mela mine
Document Status: UGLY