v3199-167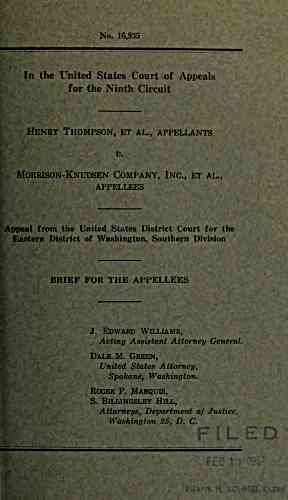 J'Sr'-tj'j'^J ". _^ *''.;'
No. 16,935
In the United States Court of Appeals
for the Ninth Circuit
Henry Thompson, et al,, appellants
Morrison-Knudsen Company, Inc., et al.,
appellees
Appeal from the United States District Court for the
Eastern District of Washington, Southern Division
BRIEF FOR THE APPELLEES
Edward Williams,
Acting Assistant Attorney General.
Dale M. Green,
United States Attorney,
Spokane, Washington.
Roger P. Marquis,
BiLLINGSLEY HiLL,
Attorneys, Department of Justice,
Washington 25, D. C.
---
archive.org Volume Name: govuscourtsca9briefs3199
Volume: http://archive.org/stream/govuscourtsca9briefs3199
Document Link: http://archive.org/stream/govuscourtsca9briefs3199#page/n166/mode/1up
Top Keywords (auto-generated):
congress, dam, treaty, relief, rights, nation, construction, yakima, 2d, district, indian, fishing, property, john, washington
Top Key Phrases (auto-generated):
yakima nation, fifth amendment, relief sought, columbia river, walla walla, walla district, house document, van natta, ross constr., mid columbia, legislative history, kincaid 285, indian fishing, henry thompson, executive assistant
Document Status: UGLY