v3208x-1077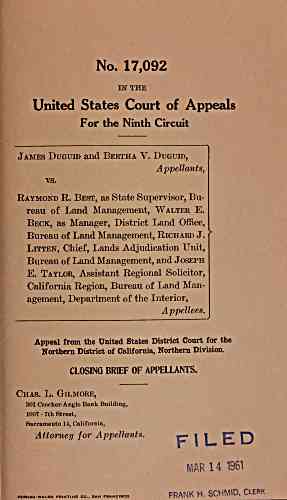 No. 17,092
IN THE
United States Court of Appeals
For the Ninth Circuit
James Duguid and Bertha V. Duguid,
Appellants,
vs.
Raymond R. Best, as State Supervisor, Bu-
reau of Land Management, Walter E.
Beck, as Manager, District Land Office,
Bureau of Land Management, Richard J.
Litten, Chief, Lands Adjudication Unit,
Bureau of Land Management, and Joseph
Taylor, Assistant Regional Solicitor,
California Region, Bureau of Land Man-
agement, Department of the Interior,
Appellees.
Appeal from the United States District Court for the
Northern District of California, Northern Division.
CLOSING BRIEF OF APPELLANTS.
Chas. L. Gilmore,
301 Crocker-Anglo Bank Building,
1007 - 7th Street,
Sacramento 14, California,
Attorney for Appellants.
FILED
MAR 14 1961
PERNAU-WALSH PRINTING CO., SAN FRANCISCO
FRANK H. SCHM1D, CLERK
---
archive.org Volume Name: govuscourtsca9briefs3208x
Volume: http://archive.org/stream/govuscourtsca9briefs3208x
Document Link: http://archive.org/stream/govuscourtsca9briefs3208x#page/n1076/mode/1up
Top Keywords (auto-generated):
land, district, right, authority, contest, department, bureau, interior, management, mining, private, jurisdiction, ed, office, 2d
Top Key Phrases (auto-generated):
land management, land office, irrigation district, private contest, preference right, mining location., ap pellants, witmer 271, timber culture, statutory authority, shipbuilding corp., pre emption, paradise irrigation, mining location, bethlehem shipbuilding
Document Status: UGLY