v3254x-5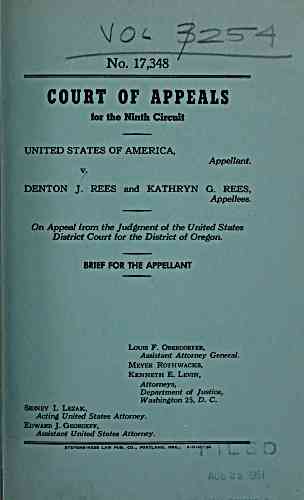 1ol
MMIMMMM 9MU %*^'w
No. 17,348
COURT OF APPEALS
for the Ninth Circuit
UNITED STATES OF AMERICA,
Appellant,
DENTON J. REES and KATHRYN G. REES,
Appellees.
On Appeal from the Judgment of the United States
District Court ior the District of Oregon.
BRIEF FOR THE APPELLANT
Louis F. Oberdorfer,
Assistant Attorney General.
Meyer Rothwacks,
Kenneth E. Levin,
Attorneys,
Department of Justice,
Washington 25, D. C.
Sidney I. Lezak,
Acting United States Attorney.
Edward J. Georgeff,
Assistant United States Attorney.
STEVENS-NESS LAW PUB. CO., PORTLAND. ORE.. 8-17-61 40
---
archive.org Volume Name: govuscourtsca9briefs3254x
Volume: http://archive.org/stream/govuscourtsca9briefs3254x
Document Link: http://archive.org/stream/govuscourtsca9briefs3254x#page/n4/mode/1up
Top Keywords (auto-generated):
dr, rees, woods, partnership, income, district, butori, commissioner, 2d, elements, 35, capital, practice, paid, patients
Top Key Phrases (auto-generated):
ordinary income, greater share, gross income, capital gain, twelve month, succeeding formation, professional skill, period succeeding, month period, clinic basis., capital gain., 1958 ed., stations inc., revenue code, rees office
Document Status: UGLY