v3258x-175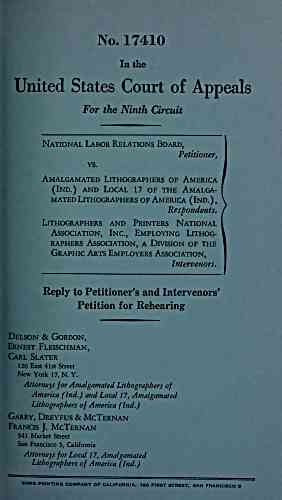 No. 17410
In the
United States Court of Appeals
For the Ninth Circuit
National Labor Relations Board,
Petitioner,
vs.
Amalgamated Lithographers of America
(Ind.) and Local 17 of the Amalga-
mated Lithographers of America (Ind.) ,
Respondents.
Lithographers and Printers National
Association, Inc., Employing Lithog-
raphers Association, a Division of the
Graphic Arts Employers Association,
Intervenors.
Reply to Petitioner's and Intervenors'
Petition for Rehearing
Delson & Gordon,
Ernest Fleischman,
Carl Slater
120 East 41st Street
New York 17, N. Y.
Attorneys for Amalgamated Lithographers of
America (Ind.) and Local 1 7, Amalgamated
Lithographers of America (Ind.)
Garry, Dreyfus & McTernan
Francis J. McTernan
341 Market Street
San Francisco 5, California
Attorneys for Local 17, Amalgamated
Lithographers of America (Ind.)
SORG PRINTING COMPANY OF CALIFORNIA. 180 FIRST STREET. SAN FRANCISCO 5
---
archive.org Volume Name: govuscourtsca9briefs3258x
Volume: http://archive.org/stream/govuscourtsca9briefs3258x
Document Link: http://archive.org/stream/govuscourtsca9briefs3258x#page/n174/mode/1up
Top Keywords (auto-generated):
nlrb, local, clause, lithographers, work, ind, struck, chain, shop, labor, f2d, employer, petition, employees, subsidiary
Top Key Phrases (auto-generated):
struck work, chain shop, shop clause, amalgamated lithographers, work clause, work clause., san francisco, respectfully submitted, printers national, national labor, mated lithographers, local 1976, labor relations, hot cargo, gamated lithographers
Document Status: UGLY