v3284-743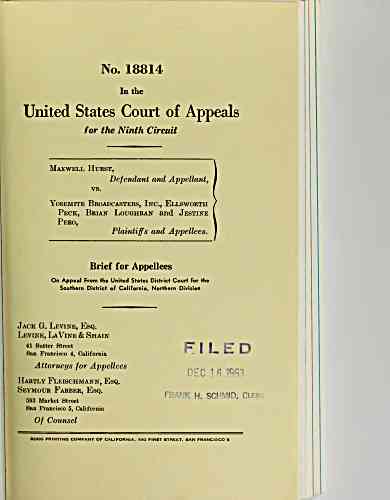 No. 18814
In the
United States Court of Appeals
for the Ninth Circuit
Maxwell Hurst,
Defendant and Appellant,
vs.
YosEMiTE Broadcasters, Inc., Ellsworth
Peck, Brian Loughran and Jestine
Pero,
Plaintiffs and Appellees.
Brief for Appellees
On Appeal From the United States District Court for the
Southern District of California, Northern Division
Jack G. Levine, Esq.
Levine, La Vine & Shain
41 Sutter Street
San Francisco 4, California
Attorneys for Appellees
Hartly Fleischmann, Esq.
Seymour Farber, Esq.
593 Market Street
San Francisco 5, California
Of Counsel
FILED
DEC 1 6 m?
FRANK H. SCH^/^ID, Cler
SORG PRINTING COMPANY OF CALIFORNIA, ISO FIRST STREET, SAN FRANCISCO 5
---
archive.org Volume Name: govuscourtsca9briefs3284
Volume: http://archive.org/stream/govuscourtsca9briefs3284
Document Link: http://archive.org/stream/govuscourtsca9briefs3284#page/n742/mode/1up
Top Keywords (auto-generated):
2d, hurst, rep, peck, station, district, profit, cal, app, radio, finding, statements, net, clearly, erroneous
Top Key Phrases (auto-generated):
radio station, net profit, plainly supported, financial statements, clearly erroneous, station rep., july 31, clearly erroneous., hurst rep., hurst miscellaneous, falsely represented, 31 1960, personal expenses, operating costs, months ended
Document Status: UGLY